25 January, 2019 Maeve Nolan
Early February marks Vietnam's most important date – Tet, the New Year's period. It can be hard getting accurate insider information about Tet celebrations and what happens across the nation during its most festive period. It can be hard figuring out if Tet is a good time to visit Vietnam. Knowing what we know about Tet, and being experts at creating tours in Asia, we've compiled this cheat-sheet for would-be travelers who'd like to catch new year's in Vietnam. Find out all about the Tet holidays – when to go, what events to look out for, general tricks and tips, and feel inspired to visit Vietnam during Tet festival and enjoy some truly unique local experiences.
When is Tet festival?
Tet, or Tet Nguyen Dan, is held on the first day of the Lunar New Year (the same day as Chinese New Year).
What is Tet festival?
There are three main parts to Tet: Tat Nien (preparation before Tet), Giao Thua (New Year's Eve) and Tan Nien (the new year). It's a time similar to Thanksgiving and New Year's all rolled into one, when families travel across the country to be together, eating traditional foods, giving gifts (red envelopes of money) to children and ushering in good luck, health and prosperity for the new year.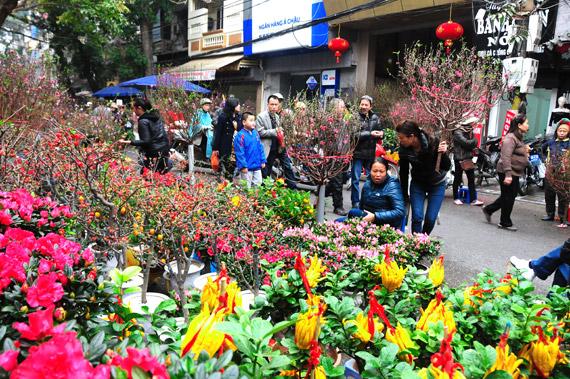 What are some traditions of Tet?
Aside from traveling to see family, Tet entails eating special New Year's foods, decorating the house with symbolic plants and flowers and giving the house a deep clean, sweeping all the bad luck out the door on Giao Thua – New Year's Eve. There'll also be noisy parades through the streets before Tet, with lion dances, drums, gongs and firecrackers to scare evil spirits away.
10 reasons to visit Vietnam during Tet festival
1. Lighter traffic
If you've ever been to Vietnam, you'll know it's on par with Thailand and Manila when to comes to peak-hour traffic, including leagues of scooters. Wander around any big city during Tet and you can relish being able to cross its main intersections in a relatively stress-free fashion.
Having said that, if you're headed to one of the more famous temples during Tet you may encounter even more traffic, since there'll be a lot of local families wanting to pray and make offerings around this time. You should also be wary that some merrymakers on the roads may be a little too merry to drive, but do anyway – always exercise caution, in other words.
2. A little serenity
Most businesses close before Tet (i.e Lunar New Year's eve) and stay that way for a few days after Tet. Most museums, galleries, malls and restaurants also close, and most people are indoors spending time with family, so, aside from tet-specific events and displays, you have smaller crowds to deal with.
Keep in mind, though, that a bustling metropolis is still a bustling metropolis – if you're in Saigon or Hanoi, there'll still be people milling about and restaurants open, plus plenty of festive lights and decorations that create a vibrant, celebratory atmosphere.
3. Fun festivities
Before your trip, do some research into events happening in the place/s you intend to visit. Parks may have flower exhibitions, there'll be parades and lion dances, there will probably be puppet shows and traditional dance performances and all around you'll see colorful (red) banners and streets festooned with lights and special New Year's decorations. You'll also witness locals stocking up on food and flowers before the holiday.
If you visit Cho Tet wet markets selling New year stuffs whether you are in a big city or rural mountain province. People rush to buy food to cook traditional dishes or buy peach blossoms, kumquat trees, flowers and some carrying home on their motorbike. Get your camera ready!
4. Chance to engage in family preparations
If you arrive in Vietnam at least two weeks before Tet, get your tour operator to organize a visit to a local family home so you can experience the lead-up to the celebration as an insider.
We can arrange for you to spend some time with a family in the in the Mekong Delta, so you can take part in traditional preparations, including making a traditional Tet treat, banh chung (sticky rice cake)..
5. Enjoy cool weather in the northern and central regions
If you're craving winter weather while traveling in Southeast Asia, head to the cooler climes of Sapa. This frontier town is characterized by its terraced rice fields and ethnic diversity – its famous market known for bringing the various hill tribes of the area together.
In February, the town sees a daily mean temperature of 9.5 degrees Celsius (49.1F) – perfectly chilly weather. Tet in Sapa is quiet, and you're best off experiencing it with a homestay. On the first day of the year, the H'mong hold their annual Gau Tao festival, which is a colorfully joyous event and a worthwhile experience if you can get your guide to arrange to see it.
6. Peach blossoms, kumquats and chrysanthemums everywhere you turn.
In the south, you'll be treated to the vibrant yellow hoa mai vang blooms of the apricot tree and the ochna decorating houses, shops and streets.
In the north, red and pink flowers are favored – in particular, the peach flower. Kumquat trees are a popular ornamental tree throughout the country, their fruits sometimes candied as a sweet Tet treat.
7. Enjoy that special new year's eve frisson
You know that high-energy, happy vibe everyone gets just before the new year dawns – it's arguably the best time to experience any country.
Though you might not get to experience day-to-day life if you visit Vietnam during Tet festival, you do get to see the streets decorated beautifully and enjoy the country in a festive mood, with everyone caught up in the holiday spirit (not just you).
8. Welcome the new year – again!
If you've traveled from a country that adheres to the Gregorian calendar for New Year's, you get to relive the countdown all over again. Enjoy the fireworks, make your resolutions (travel more) and toast to a brand new year.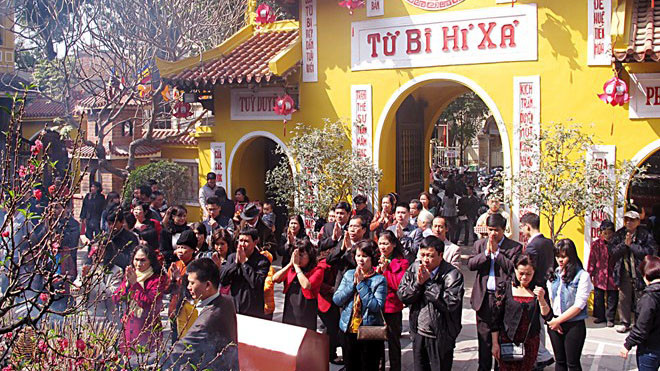 TIPS FOR VISITING VIETNAM DURING TET CELEBRATIONS
Double-check the dates of the holiday. The exact dates change every year.
Arrive up to two weeks before Tet festival to make sure you get booked onto the flights you want – and to see the pre-Tet rush in full force.
Sort out your visa
Arrange for a homestay for a true local experience
Stay in one city to avoid having to travel within the country
Expect a different type of holiday than you'd normally have